Now, that's a lot of money. Their site is also filled with a number of positive video testimonials and reviews that they have gotten from different customers from different countries who are either developers or professional traders. Even at the very end of their page, Fap Turbo 3.0 is described as "awesome", "perfect", and "impressive". But is it really?
This review will help you find out whether this Forex bot really works, or if it is a scam.
Official Website
Purchase the FapTurbo Forex Trading Robot only from their Official Website. Other retailers do not guarantee the 60-day refund protection.
The complete system costs $149 USD and comes with a full money-back guarantee.
Comparing FapTurbo and FapTurbo 2.0
Fap Turbo 2.0 is a newer version of original FapTurbo launched in 2008. It was a good software then, but if you're planning to use it for a live account, then I wouldn't recommend it.
Fap Turbo 2.0, on the other hand, is the "new and improved" version that has added features designed to lower your risks of losing your capital. Other new features include:
Automatic Risk Scaling
High Spread Prevention
Build-In Loss Protection System
Fap Turbo 3.0 has improved even more from the 2.0 version.
Customer Reviews
Read the customer reviews below and enter one of your own after trying out the latest FapTurbo Forex Bot.
Click here to submit your review.
---
---
You must be willing to risk your money
Fap Turbo 2.0 is one of the three robots I own. It is also my first EA. If you want to trade, my advice is to keep your investments in small amounts.
I can say that my losses with Fap Turbo 2.0 is overpowering but if you keep your capital small and stay patient, you will profit even if it's just a small amount. I think it's better than losing everything you put into your robot.

---
The worst EA I've used
I have already tried other EA's out there but this one is unusable. Ever since I started using it six months ago, all it did is lose my investment, no matter what settings I use or broker I choose. I even paid an additional amount for the "Forex Guru". This feature is very use as it's apparently designed to set the "Stop Loss" to 50% higher than the "Take Profit". I can't believe I even paid for that! I spent months trying to figure out what settings would be best to profit from this turbo. I even tried different brokers to no avail. Like a lot of turbos out there, this one is waste of money, time and space in the hard drive. I'm sure that the only ones who make money from this are their affiliate marketers that sell it.

---
Don't rely on EAs
Apr 14, 2016
by
Bay Lane Trades Group
Fap Turbo works fine with us. What we did is we ran multiple demo accounts with different settings then copied that demo account to a live account. We got decent results from this strategy, but it doesn't work on scalping. If you want to scalp, try formulating various settings.

If you want to trade, the number one rule to winning is to look at the Money Management. Don't rely on your robot alone because no robot has the ability to make you money unless you have a good MM.

---
Scalps at times
This turbo is not a scam. In fact, I was able to enjoy it for more than a year, until more people started using it. I noticed that Fap Turbo 2.0 scalps at the same time in the evening everyday, so it lost its liquidity. This is the first EA that I used, and I could've have given it a 5, but you have to know when it's time to change turbo.

---
Not for me
This turbo only relies on your broker and latency. You can't do much if you have zero knowledge of the latest trend because it doesn't have the ability to predict accurately. I think if you ever decide on using this turbo, then don't bother using this at all. It all depends on how lucky you are, like others who actually make money from it.

---
Fap Turbo 3.0
rated

2.6

/5 based on

22

reviews.
The People Behind Fap Turbo
Steve Carletti is the head developer of Fap Turbo 2.0. Searching on Google for his name, I found a news article about him and his success at making a lot of money from developing an EA with his college friends.
Recently, a "top-rated trader" named Roy Tribble started promoting FapTurbo 3.0. Now, if you Google his name, you would learn that his name doesn't appear without the word "scam" next to it. Roy is known as the worst scam artist on the Internet and seems to be vigilant when it comes to promoting new scams.
Fap Turbo works with another company called "Rock the Stock" which is also labeled as a scam. Rock the Stock was developed by the same people who are behind the Binary Boom website, another trading tool that was long known to scam people off of their money.
My Results Using Fap Turbo 3.0
The creators and promoters of Fap Turbo 3.0 claim that this software is 100% automated – meaning, you can apply the settings that you want, leave it overnight, and make money while you sleep.
This was not the case for me, however. When I first used this EA, I had to try a lot of different settings to get good results. If you don't want to lose a lot of money from this software, I recommend using the short-term scalper strategy while you sleep because it is not very risky. Don't expect to be making a lot of money from it, because trading, in general, is not a get-rich-quick scheme.
My initial capital for testing this software was $200. I used it for a week, regularly checking my progress and settings, and was able to make 15% more.
I tried running the software only on sites that they recommend. I got mixed results and gains, so I can say that the winning ratio is around 50%. I also tried running it with EUR, USD, GBP, and BTC. So far, the first three are giving me good results, but Bitcoin is losing me some money.
Since I saw money growing, I increased my capital by $1000. My initial capital almost doubled in three months, so I was confident to increase my investment. The first month since increasing my capital, I saw some awful results. Of course, I won a few trades, but I had more losses.
To solve this, I tried running the software in MyFXChoice. I ran it to my live account and so far, I've seen good results. My losses are decreasing, and I have already gotten 23% profit since last month.
This shows that if you trade in small amounts of money, you are at lower risk of losing. If you want to trade bigger, learn how to get around the software first.
So far, my highest profit since increasing my capital is 69%. However, there are months where I would lose a huge amount of money, but luckily, my account would slowly recover the next month.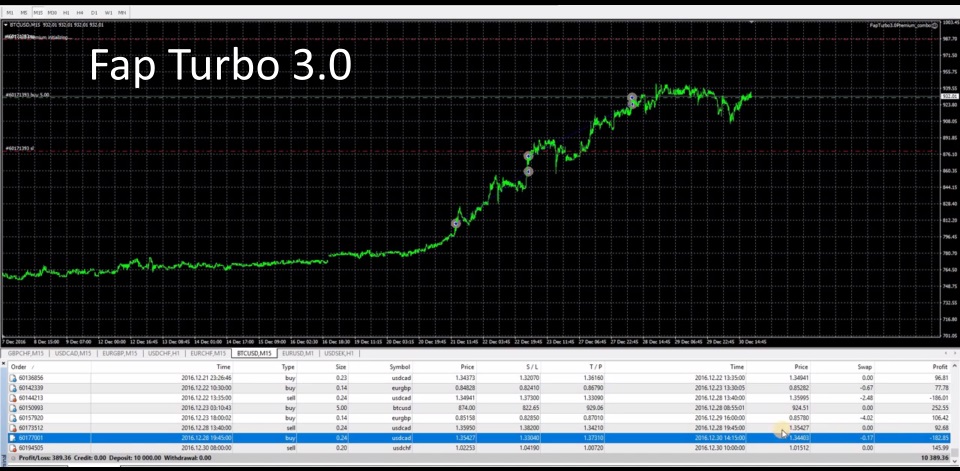 Should You Use FapTurbo 3.0?
I don't think that FapTurbo 3.0 is a scam. In fact, I don't believe that there are EA's out there designed to scam people. Any software can either be a bad robot or a good robot. This would highly depend on the user and their knowledge of trading.
If you are a first-time trader, I don't recommend using this software. You have to use various settings and brokers to get the most out of it; and to get the right settings, you must be really knowledgeable with Forex trading. In the end, it's still you who's trading, and not this software.
Also check our other reviews for forex robots.
Older Reviews
The more recent user reviews are posted above.
---
Stay away from Fap Turbo 2.0
I used Fap Turbo 2.0 as my first robot. It is sad to say that my experience from it is a total disaster. I don't believe that it is just broker sensitive because I tried every setting and broker but still failed. I think their whole system is the problem. I tried the default setting and lost money.
I then paid for an optimized setting that lost me even more money. It is embarrassing to even discuss how much money I've lost. Even my two demo accounts are showing huge amount of losses. For those who say that Fap Turbo 2.0 works, I'm glad it did for you. But to those who are searching for a good EA, my advise is to stay away from this robot.

---
Doesn't work as well as it did before
Fap Turbo 2.0 used to be a good EA in the past. I used to make a small profit from it but during the last 9 months, I lost over 1,800 pounds from it. If this turbo still works for you, then that's good. But I wouldn't recommend it and would not spend my retirement in this turbo.

---