Mark Larsen
and developed by his two partners –  Anthony and Ronald. Mark named his robot after a GPS navigator because like the device, it can predict small movements with high accuracy.
This review will focus on the latest version of the software – GPS Forex Robot 3.
Pricing
GPS Forex Robot has a one-time fee of $149 USD. This is slightly cheaper than other Forex trading robots out there.
You also get access to video tutorials and guides when I downloaded this software. Support is also great.
Official Website
Make sure you buy the GPS Forex Robot only from the Official Website to qualify for the 60-day money back guarantee.
Customer Reviews
Read the customer reviews below. Enter a review of your own to share your experience. Note: please use proper grammar and spelling to maintain Trader Group's website quality.
Click here to submit your review.
---
---
All my trades won
I downloaded GPS Forex Robot last month, and I immediately tried a demo account with it. The demo account returned great results, so I started trading in my live account. So far, I've had 9 live trades since purchasing, and all are winners.

You will surely love this EA if you are patient because it does not trade as often as the others. From my experience, it only trades 2-3 times a week.

---
EA Doesn't work
I purchased GPS Forex Robot from their main website and followed the installation guidelines. I started on a demo account, but it did not trade the first week. I tried the demo account again for another broker. I also set up a VPS for this trade in hopes of solving the issue.

After 2 weeks, the EA started trading a few times, but I lost everything in the 4th week. I got in touch with the developers, but they do not reply to my inquiries until I posted a negative comment in a forum. Their responses are not helpful at all. EA didn't work for me, and the support is bad. I wouldn't recommend this to anyone.

---
Stable results for 2 months
I have been trading with GPS Forex Robot for 2 months now. I am happy with it because I get great results with any broker that I use. The results are also stable, and it makes me feel that I wouldn't have to worry about anything while trading with this robot.

Since I started trading, my account has been growing consistently. I have a great experience with this EA, compared to the others that I tried before. I used to stop using the other EAs after trading with a demo account for a week, but this time, it's different.

Their support is great, compared to other developers. When I encountered an issue with the EA, I contact support immediately, and they responded within 48 hours. They even helped me install the software and the VPS that I need without any additional fee.

---
Loyal customer here
I have been trading with GPS Forex Robot since they released the first version of the EA. Since the robot was still in beta, the developers were keen at communicating with their users. They started with at least 10 accounts and brokers for testing and e-mailed every customer to get access to the results for each broker.

After that, they recommended working with fxchoice because of the great results they received. Not only that, but they also provided explanations and showed actual results for this broker.

I have three accounts with GPS Forex Robot, and trading with three brokers, including fxchoice. With other EAs I always lose money with no explanation at all.

---
Great job!
May 30, 2016
by
Greg White
Mark Larsen and his partners have done a great job developing this software. I now realize that before you purchase a trading robot, you have to do extensive research, not only about the products (you know how there are a lot of affiliates who want to sell untested products) but most importantly about the developers.

The developers of GPS Forex Robot know what they are doing and are smart when it comes to minimizing losses. This robot is highly recommended.

---
GPS Forex Robot
rated

3.9

/5 based on

23

reviews.
My Review of GPS Forex Robot
I read various reviews about GPS Forex Robot before purchasing it. Learning that Mark Larsen is a real Forex trading expert made me think that this software will probably be better than the ones I tried before.
GPS Forex Robot was first launched in 2008 – that's almost a decade from now, and it still has lots of positive feedback. Anthony and Ronald also launched their own trading software after the success of the GPS EA, and so far, they are doing good in the industry. The newest version 3 offers more features and advancements.
What I love about this Expert Advisor
This software does not require a broker registration. This means you can trade with any broker you want.
You are not required to deposit hundreds of dollars before being able to use the EA.
The user-interface is friendly, and newbies can easily understand the process of trading with the robot.
Trusted and has good credibility online.
Has a stable performance since launching.
Broker Choices
As I mentioned in this review, I did some research before purchasing this product. One important aspect of trading successfully is knowing which broker to choose. I started with FXChoice because there are good reports of trading with this broker and the GPS Forex Robot 3.
FXChoice proved to be a good choice, and all my first few trades won. When I saw profits coming from this broker, I started trading with two more – IamFX and ibfx. Not long after that, ibfx closed their account. I was able to withdraw my money from them. Until now, I am still trading with IamFX.
When comparing my results with the ones on their site, I saw that my results are just slightly worse than theirs, which means that they have honest marketing and that their robot works like they claim it would.
Trading Frequency
For the first weeks, I noticed that GPS Forex Robot 3 does not trade as often as the other robots do. At the end of the week, I would only have 2 to 3 trades on my live account. It was not a big deal since all of my trades won. It is designed that way to have more winning trades.
I then learned that you could set the frequency of your trades. You can actually trade every day. By default, new accounts are set to have safe settings that you can configure to make your software trade more often, by setting your Auto Analyze function off.
Sure, you may get more profit when your robot trades every day, but keep in mind that the more you trade, the higher your risk of losing. I choose to trade only a few times a week. It may be slow, but the possibility of winning is much greater.
Trading Results
I have a $10K account with this robot. The good results I have seen for months made me feel confident that I will profit from GPS Forex Robot. So far, my profit is at $2,800, which I can say is decent. I lost some trades with this robot, but it's amazing how it can recover from the loss.
Because I set the robot to trade only a few times a week, I can't say that I make a profit, but with my 2 years of experience from them, I can assure you that the result is almost always stable. If you are looking for a robot that you can trade with for a long time, GPS Forex Robot is your choice.
Some robots in the market can make you huge profit in the first few weeks, but will quickly blow your earnings in the next coming days. I never saw that happen to my account in GPS Forex Robot. In fact, my profits are always rising. It can be slow, but it's steady.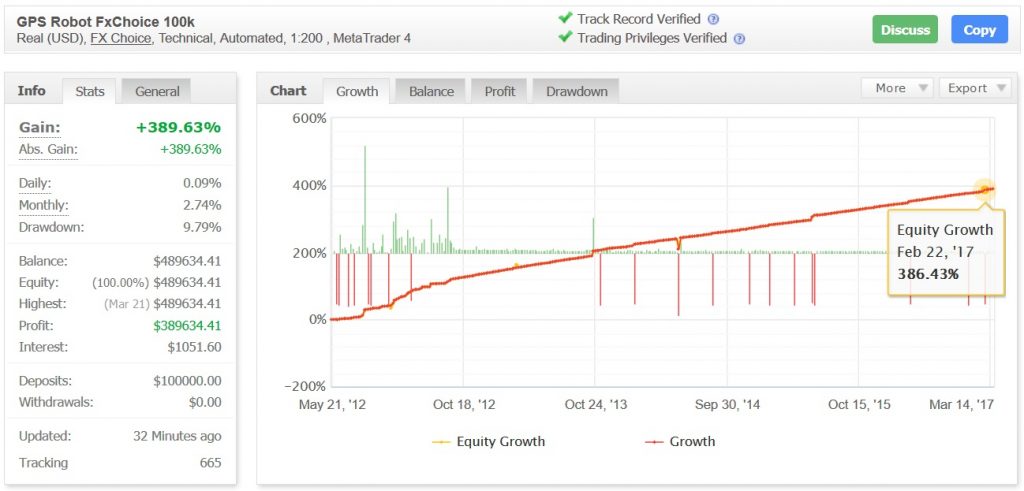 Conclusion
If you are a long time trader, you may have already heard of GPS Forex Robot. This robot is best for beginners who do not want a complicated process of using an EA.
You can trust this robot because their sample results are verified. They also have verified documents from brokers – things that you should be looking for when choosing an EA.
Like with other EAs, you can expect losses while trading with GPS Forex Robot. However, the robot will immediately open a recovery trade that will work to cover the losses. So far, all of my recovery trades are profitable and are successful at covering my losses.
Some traders are so confident with this robot that they trade 100K on their accounts. Some are seeing $300,000 profit (unverified). If you are a new trader, I recommend starting with a small amount and go up from there.
Additional Reviews
These reviews are older. More recent user reviews were posted above.
---
Robot never trades
I tested GPS Forex Robot on a demo account soon after purchasing it from their website. The demo did not show negative results, so I went live. I was so devastated when I haven't seen it trade in weeks. On their site, the developers claimed that the EA trades every day. They repeated that over and over, but mine does not trade at all.

Within 3 months, the EA traded only about 7 times, and I get a little profit. When the second version came out, I bought it again in hopes of seeing more trades, but it did not improve. Also, I saw how other traders are seeing good results with fxchoice, but I don't believe the results. How can you have that profit when the robot does not even trade?

---
Legit and trustworthy
I've been trading with GPS Forex Robot for over a year now, and never looked back. There are a lot of binary options trading software out there who are waiting to scam people, and I'm glad I found GPS Forex Robot. I have proven how well this software works. I recommend others to stay away from other robots because I am sure 95% of these softwares are a scam.

---
A well-documented software
I like how GPS Forex Robot has a very detailed documentation. It is easy to implement and use, so I recommend it to newbies like me. I wish I learned about this EA earlier because I've been losing a lot of money trading with other software.

I tried every currency that GPS Forex Robot is trading for, and I can say that EUR/USD works the best for me.

---