*Article backup archived from the Jamaica Gleaner newspaper on May 20, 2015.
CARIBBEAN HEADS of government yesterday took the historic step of formally signing the document for implementation of the CARICOM Single Market (CSM), a move towards greater regional unity.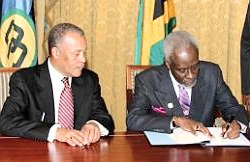 Speaking yesterday at the signing held on the Mona campus of the University of the West Indies, the leaders stressed the importance of the moment which makes CARICOM only the second regional grouping in the world, after the European Union, to form a single market.
LET'S STAY TOGETHER
Borrowing from the lyrics of Bob Marley's One Love CARICOM Secretary-General Edwin Carrington insisted, "Let's get together and feel all right, I say let's stay together and be all right."
Jamaica's Prime Minister P.J. Patterson said the signing was a moment at which Caribbean people "can take considerable pride" and that the single market would make the region stronger in international trade and negotiations and increase economic growth and employment.
Although the CSM formally began on January 1 with six countries on board including Jamaica, the six Organisation of Eastern Caribbean States (OECS) are yet to sign.
Yesterday they signed a declaration of intent to join the CSM by the end of June.
FORMIDABLE CHALLENGES
The process which began with the CSM and its removal of barriers to trade, goods, services and several categories of labor will conclude with the implementation of the CARICOM Single Market and Economy (CSME) by the end of (CSME) by the end of 2008. The CSME will involve a single currency and the harmonization of economic policy.
But cautioned Mr. Patterson: "Formidable challenges still exist as we move boldly forward in the pursuit of closer regional collaboration, within a global economy that is admittedly hostile to the interests of small island developing nations."
He warned that incompleteness of membership and bureaucracy in the major economic areas, "… diminishes the attractiveness of the region as an economic partner."
Speaking for the OECS, Prime Minister of St. Vincent and Grenadines, Ralph Gonsalves, said the sub-grouping had consistently supported regional integration but as smaller countries needed more time to complete the relevant legislation and for the CSM bureaucracy to be fully operational.
"We will not be coming to the rearguard but the vanguard," insisted Mr. Gonsalves referring to the signing, scheduled for June 18 of the OECS' Economic Union Treaty, on the occasion of the sub-grouping's 25th anniversary to assist its joining of the CSM.
Countries who joined on January 1:
Jamaica, Barbados, Belize, Guyana, Suriname and Trinidad and Tobago.
Countries to join by June 30:
Antigua and Barbuda, Dominica, Grenada, St. Kitts and Nevis, St. Lucia and St. Vincent and the Grenadines.