The term "broker co-op" is usually connected with the real estate industry. In some areas, this term is used by builders who are willing to pay a broker / real estate agent / realtor to bring a buyer into their showroom.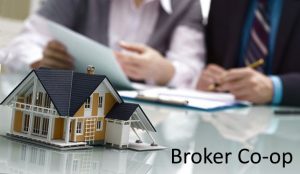 Broker Cooperating with Other Brokers
Broker co-op describes an instance when a broker is getting paid to cooperate with another broker to help the latter sell their listed property.
Oftentimes, it is the cooperating broker who searches for a buyer and presents the listed property to the buyer.
The other broker will then represent the cooperating broker to the property of the owner (or the seller).
After a successful sale is made, the two brokers will then split the commission.
What if Owners Won't Pay for Broker Co-op?
Most listings are offering co-op to brokers who can steer a buyer their way. However, there are some cases when sellers are not willing to pay commissions to brokers, and just want to sell their property directly. In this case, brokers can still offer the listing to buyers who are willing to pay them the commission.
Real estate brokers are very different from other types of brokers. Trader Group main analyses financial brokers, who also serve as an intermediary, but in a different way.